Facility Managment
Manage large company premises and diverse user groups through collaborative maps
Request a demo
Get your job done with ease
By bringing together innovative technologies and your facility management team, FORMATION enables better collaboration and more productivity.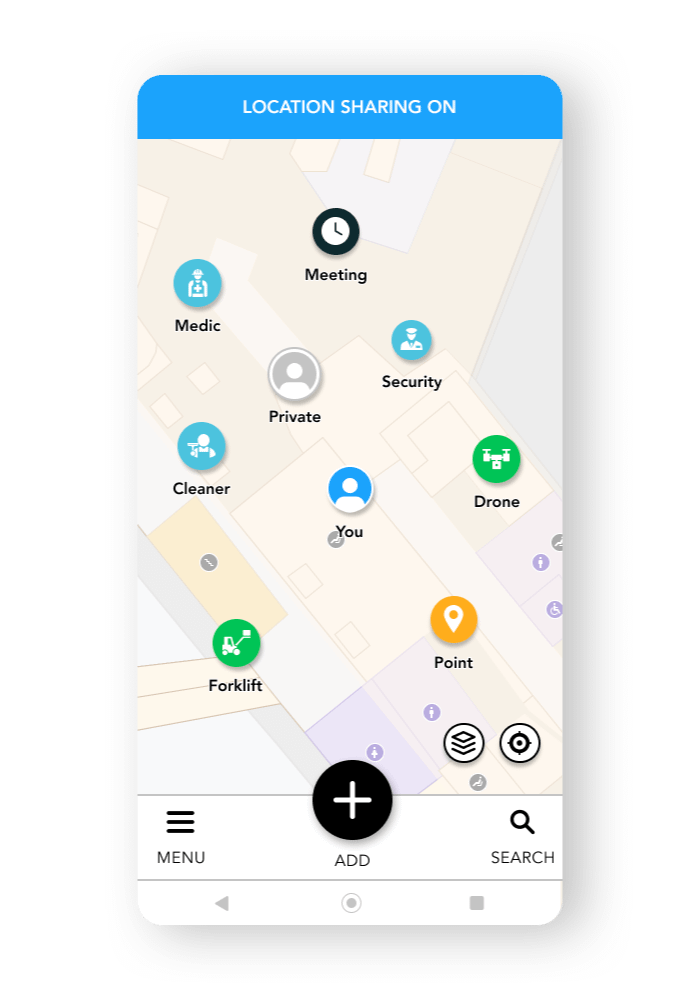 Keep the overview
Always know what is going on in your workplace.
Your facilities as a lightweight digital twin
The interactive map gives you and your team a live overview of everything that is happening in and around your facilities. You can connect your building sensors, tools and more for a complete overview of what is currently going on.
Find your tools, building infrastructure and more
Use map layers to store important information about building infrastructure and more to have it available whenever and wherever you need it. You can even track tools that you are frequently searching for to never lose them again.
Always be up-to-date
See your current tasks and meetings on the map to know what is next. Receive alerts and notifications when things change and need your attention.
More efficient maintenance work
Use the interactive map to get things done faster.
Report issues
Mark new issues on the map as soon as you discover them. Assign tasks to your team and add descriptions and images to let them know what needs to be done.
Maintenance routes
See all the items that need to be maintained on the map. With the fastest route you make sure that you don't waste time and that you don't forget any.
Track your progress digitally
Do your reporting right there on your mobile device. Change the task status to indicate your progress or attach an image to explain an issue that you discovered. No more paper forms needed.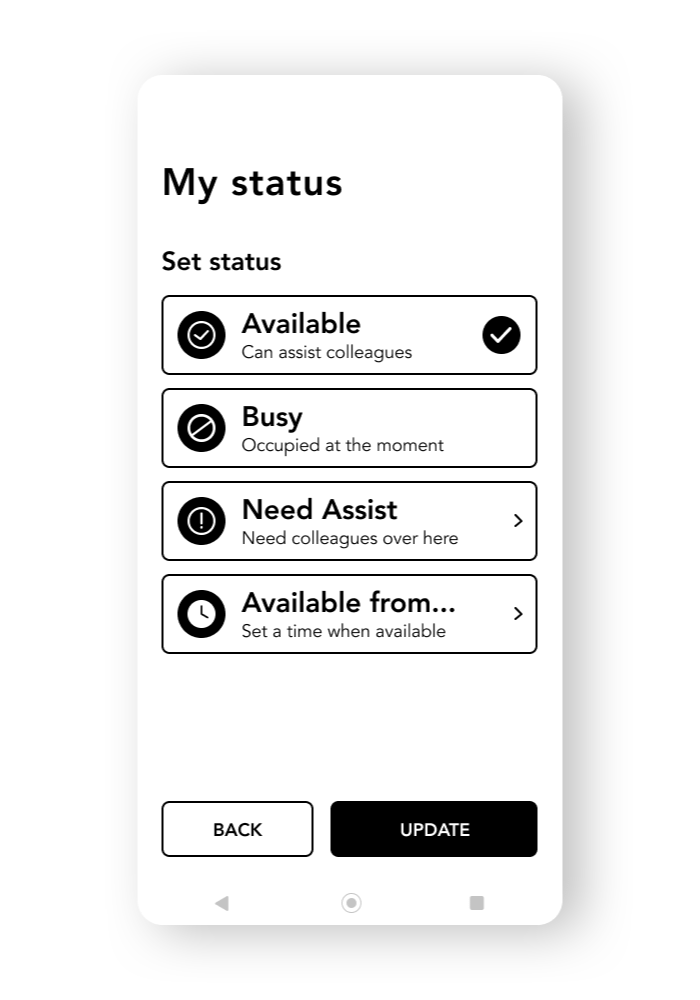 A better experience for your suppliers & guests
Make your external suppliers and guests feel welcome right from the start and provide them with the information they need.
More comfort and efficiency
Better information helps externals to have a great experience and to deliver better work when at your facilities.
Better way-finding
Using FORMATION enables your external suppliers and guests to find their way to the meeting room or location where they need to work with ease. No more waste from printed maps and feeling lost on large campuses.
Share information with ease
Share clear instructions about the job and where it needs to be done on your premises with your supplier. This way you prevent mistakes and assure that the information is available to them whenever needed.
Monitor the progress
Allow your suppliers to report their progress in FORMATION to save yourself time by monitoring tasks' progress from afar.
Enable better preparation
Embed the map on your website to allow external suppliers and guests to prepare their visit comfortably before they arrive. Providing them with the good feeling of knowing where to go.
Secure & private maps
Be in full control of your maps.
Keep your information save
FORMATION uses rights based map technology that enables you to show different map information to various user groups. This way you can hide sensitive areas on the map from visitors but make them available for your team.
Creating a standard for your maps
With many buildings come many types of maps. We digitalize your floor plans and bring them together in one solution. This way you have a homogeneous standard for all your buildings.
Always up-to-date
Once digitalized you can quickly update your maps according to the latest construction work and see the changes in minutes. Every user immediately receives the updated map and you don't have to worry about outdated maps anymore.

More engagement by your workforce
Using modern, digital tools help you to increase your workers' engagement and loyalty. Leading to better performance and less turnover.
Get in touch to learn more about how you can benefit.
What Interactive Maps can do for you

Find, Don't Search
Get back up to 90% of the time spent on searching today.

Improve Teamwork
Coordinate and connect your team accross any large workplace.
Keep the overview
Get a quick snapshot on the map that shows you what is going on.
Problem Solution Fit
You have a location specific challenge? Then we can help you solve it.

We analyze your current setup and goals to identify optimal solutions for your challenge - either great existing solutions on the market or custom build to match your needs.

We do not just stop with a clear recommendation. We also implement your new solution and get you and your team started successfully.
Technologies
You know what to track and where to track it, but you are not sure what technology to use? We analyze your scenario and provide you with a clear recommendation based on what you aim to achieve.

Our experts can also get the system up and running for you.
Location Intelligence
You already have location data and would like to use it for e.g. process optimizations? With our location AI and ML experts we provide advanced analytics tools to enable you to gain new insights and benefit from the power of your location data.
Architecture Review
You already have a tracking or positioning solution but would like to know if it can do more for you? We offer in depths reviews of your existing infrastructure and help you identify its strengths and weaknesses but also new opportunities for additional business cases.
Your content goes here. Edit or remove this text inline or in the module Content settings. You can also style every aspect of this content in the module Design settings and even apply custom CSS to this text in the module Advanced settings.
Teilnehmer
Lernen Sie unsere Diskussionsteilnehmer kennen.
Marcus Görke
Executive Board Member, Next Data Service AG
Marcus Görke ist Gründungsmitglied der Next Data Services AG. Ein in Berlin ansässiges Unternehmen, das sich auf die Entwicklung von KI-Tools für diverse Branchen konzentriert. Bevor er seine neueste Firma gründete, arbeitete er u.a. als Senior Manager bei PWC und der UNITY AG, wo er viele globale Unternehmen bei ihren Digitalisierungsstrategien unterstützte.
Marcus Görke wird über seine neuesten Erkenntnisse zum aktuellen Stand von KI am Arbeitsplatz sprechen.
Ian Hannigan
CEO, FORMATION GmbH
Ian Hannigan is a tech enthusiast and brings in more than 20 years of experience in building user centric products. Before Ian Hannigan started FORMATION he grew Fluidui.com to help millions of designers build better tools and services.
Ian will share his insights into adapting new technologies and how technology can help itself. 
Thomas Waldmann
Venture Manager, Würth Elektronik Group
Thomas Waldmann ist Technologie-Scout und Venture Manager bei der Würth Elektronik Gruppe. Vor seiner jetzigen Position war er 22 Jahre bei OSRAM tätig, wo er sich vom Prozessingenieur und Berater zum Leiter der SP Services hocharbeitete.
Thomas Waldmann wird seine Einsichten über die neuesten Technologietrends für Industriearbeitsplätze mit uns teilen.
Möchten Sie Diskussionsteilnehmer werden?
Connor Kim
Marketing Head, Microsoft
Send us a message
Have a general question? We're just an email away.
Previous FORMATIONtalks events:
Improve safety & security
FORMATION is also there to help your security and firefighters.
Map your dangerous goods
Use a specific map layer to make information about dangerous goods on your premises more easily available to selected users. This way they can make faster and better decisions in situations where every second counts.
Put your safety equipment on the map
Make the location of your safety equipment available to users to help them find defibrillators, fire extinguishers and more when they need them.
Respond faster to incidents
Issue warnings on the interactive map and raise alerts about current safety hazards such as oil spills, unattended bags and more. Easy information sharing and precise location information helps your team to respond faster.
Digitalize patrol routes
Use digital check points for your security team's patrol routes. Keep a digital record and adjust the routes whenever needed.
Gout your team on the map!