Interaktive Karten für mehr Teamwork und flexiblere Prozesse
FORMATION ist die kartenbasierte Produktivitäts-Lösung, die es Ihren Teams ermöglicht gemeinsam in großen Betriebsstätten besser zu arbeiten. Die interaktive Karte bietet zahllose Möglichkeiten, um Ihre Arbeitsumgebung smarter und effizienter zu gestalten.  
Einfache Handhabung
FORMATION ist für eine einfache und  intuitive Nutzung designt und gebaut.
Für Drinnen & draußen
Große Arbeitsumgebungen sind oft komplex, daher funktioniert FORMATION überall.
Gebäudekarten
Fügen Sie Ihre Gebäude hinzu, aktualisieren Sie Pläne und kontrollieren Sie wer was sieht.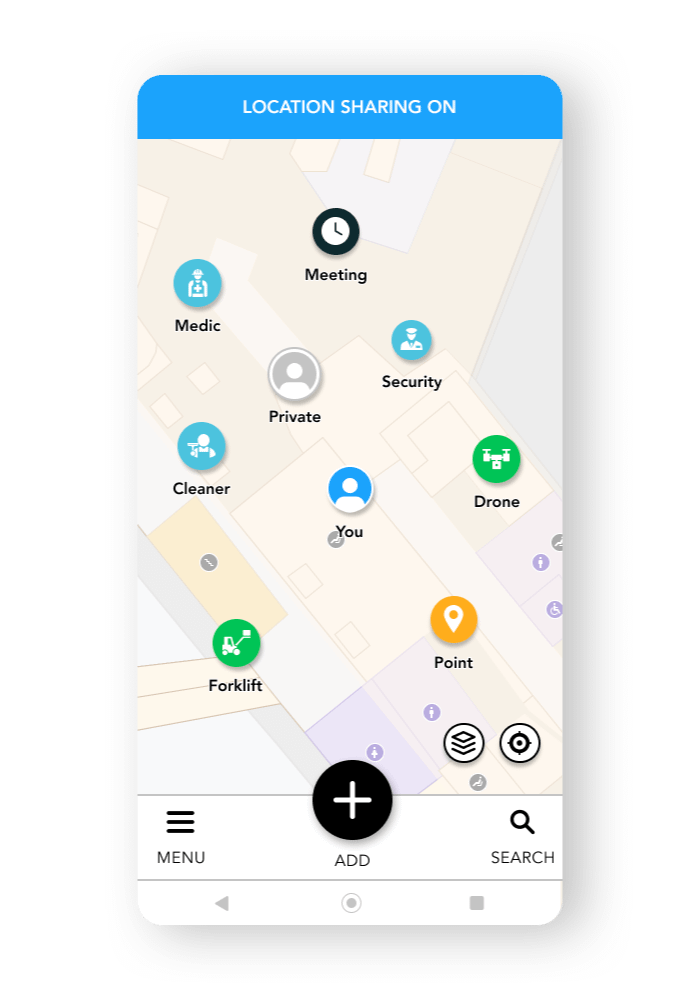 Mobile & Web-Lösung
FORMATION ist als native Android und iOS App sowie als Lösung für Web-Browser verfügbar. 
Technologie unabhängig
FORMATION unterstützt alle gängigen Tracking- & Positionierungstechnologien.
Sicher & DSGVO konform
FORMATION DSGVO konform und setzt auf höchste Sicherheitsstandards.
Alles was Sie zum Arbeiten im Team benötigen
Aufgaben
Verwalten Sie Ihre Aufgaben auf der Karte, um zu wissen was, wann und wo zu erledigen ist. 
Punkte
Markieren Sie Punkte auf der Karte, um Wissen mit Ihrem Team zu teilen.
Meetings
Planen Sie Meetings mit einem Kollegen oder dem ganzen Team und legen Sie fest wo Sie sich treffen.

Suche
Kein langwieriges Suchen mehr. Finden Sie schnell und einfach was Sie benötigen.  
Kartenebenen
Nutzen Sie Kartenebenen, um Informationen für unterschiedliche Teams und Projekte zu organisieren.
Navigieren
Finden Sie den Weg innerhalb und zwischen Gebäuden – auch wenn Sie noch ganz neu sind. 
Benachrichtigungen
Nichts mehr verpassen. Benachrichtigungen halten Sie auf dem neuesten Stand sobald sich etwas ändert.
Einbinden
Binden Sie Maschinen und Sensoren auf der Karte mit ein, um einen noch kompletteren Überblick zu erhalten.
Integrieren
Integrieren Sie vorhandene Softwaresysteme, um Aufgaben und mehr automatisiert zu vergeben.
Weitere gute Gründe für interaktive Karten
Sicherheit am Arbeitsplatz steigern
Nutzen Sie interaktive Karten, um Sicherheitsequipment und Notausgänge im Notfall schneller zu finden. FORMATION stellt allen Nutzern sicherheitsrelevante Informationen zur Verfügung – egal wo diese sich gerade befinden.
Kontaktieren Sie uns und erfahren Sie mehr darüber, wie wir Teams dabei helfen die Sicherheit am Arbeitsplatz zu steigern.
Gebäude & Arbeitsmittel analysieren
Gewinnen Sie neue Erkenntnisse über die wahre Nutzung  Ihrer Gebäude und Arbeitsmittel.
Identifizieren Sie Engpässe oder verstehen Sie besser, ob Sie zu viele oder zu wenige Arbeitsmittel eines bestimmten Typs haben.
Kontaktieren Sie uns, um darüber zu sprechen, wie Ortsdaten Ihnen bei Ihren heutigen Herausforderungen helfen können.  
Informationsaustausch zwischen Teams fördern
Gebäude und andere Arbeitsumgebungen werden oft von vielen verschiedenen Teams genutzt, die unterschiedliche Tätigkeiten ausführen. FORMATION hilft all diesen Teams und ermöglicht einen einfacheren Informationsaustausch untereinander. Dies ermöglicht mehr Effizienz und weniger Verlust von wertvollen Informationen.
Lernen Sie die interaktive Karte und ihre Vorteile für Sie kennen!
What Interactive Maps can do for you

Find, Don't Search
Get back up to 90% of the time spent on searching today.

Improve Teamwork
Coordinate and connect your team accross any large workplace.
Keep the overview
Get a quick snapshot on the map that shows you what is going on.
Problem Solution Fit
You have a location specific challenge? Then we can help you solve it.

We analyze your current setup and goals to identify optimal solutions for your challenge - either great existing solutions on the market or custom build to match your needs.

We do not just stop with a clear recommendation. We also implement your new solution and get you and your team started successfully.
Technologies
You know what to track and where to track it, but you are not sure what technology to use? We analyze your scenario and provide you with a clear recommendation based on what you aim to achieve.

Our experts can also get the system up and running for you.
Location Intelligence
You already have location data and would like to use it for e.g. process optimizations? With our location AI and ML experts we provide advanced analytics tools to enable you to gain new insights and benefit from the power of your location data.
Architecture Review
You already have a tracking or positioning solution but would like to know if it can do more for you? We offer in depths reviews of your existing infrastructure and help you identify its strengths and weaknesses but also new opportunities for additional business cases.
Your content goes here. Edit or remove this text inline or in the module Content settings. You can also style every aspect of this content in the module Design settings and even apply custom CSS to this text in the module Advanced settings.
Teilnehmer
Lernen Sie unsere Diskussionsteilnehmer kennen.
Marcus Görke
Executive Board Member, Next Data Service AG
Marcus Görke ist Gründungsmitglied der Next Data Services AG. Ein in Berlin ansässiges Unternehmen, das sich auf die Entwicklung von KI-Tools für diverse Branchen konzentriert. Bevor er seine neueste Firma gründete, arbeitete er u.a. als Senior Manager bei PWC und der UNITY AG, wo er viele globale Unternehmen bei ihren Digitalisierungsstrategien unterstützte.
Marcus Görke wird über seine neuesten Erkenntnisse zum aktuellen Stand von KI am Arbeitsplatz sprechen.
Ian Hannigan
CEO, FORMATION GmbH
Ian Hannigan is a tech enthusiast and brings in more than 20 years of experience in building user centric products. Before Ian Hannigan started FORMATION he grew Fluidui.com to help millions of designers build better tools and services.
Ian will share his insights into adapting new technologies and how technology can help itself. 
Thomas Waldmann
Venture Manager, Würth Elektronik Group
Thomas Waldmann ist Technologie-Scout und Venture Manager bei der Würth Elektronik Gruppe. Vor seiner jetzigen Position war er 22 Jahre bei OSRAM tätig, wo er sich vom Prozessingenieur und Berater zum Leiter der SP Services hocharbeitete.
Thomas Waldmann wird seine Einsichten über die neuesten Technologietrends für Industriearbeitsplätze mit uns teilen.
Möchten Sie Diskussionsteilnehmer werden?
Connor Kim
Marketing Head, Microsoft
Send us a message
Have a general question? We're just an email away.
Previous FORMATIONtalks events: