Collaborative Maps
FORMATION is the map based productivity solution for better collaboration in large workplaces.
Request a demo
Why an interactive map?
Gain the overview – In large work environments such as a production facility, maintenance plant or office campus it is hard to keep track of everything. The interactive map provides you and your team with the best overview and tools to increase productivity and process flexibility.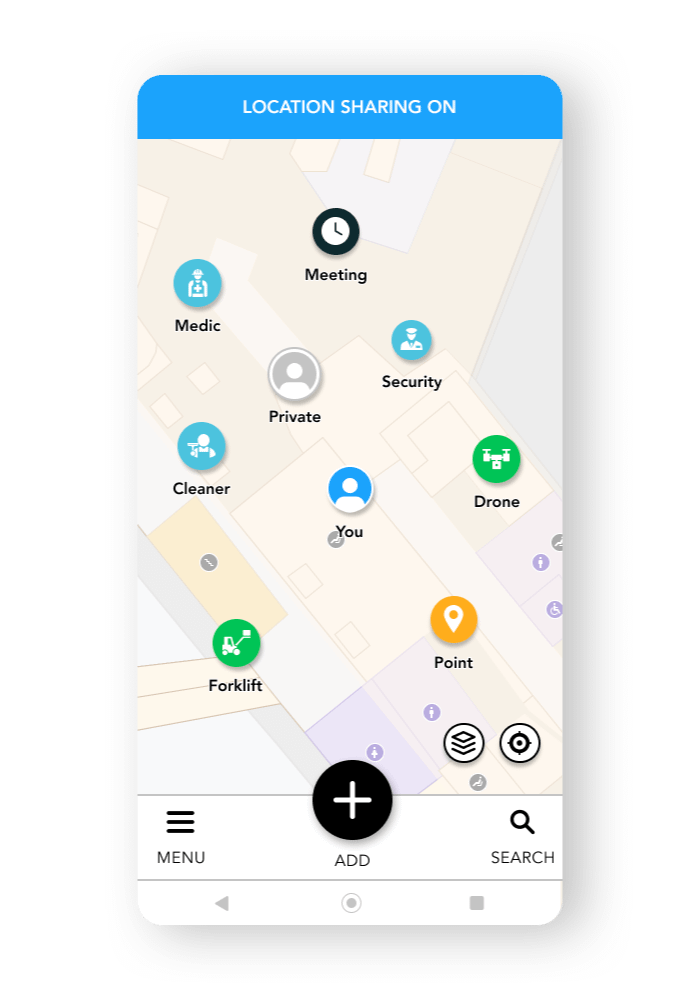 Easy to use
We all know maps and use them almost on a daily basis. Now maps help you ease your workday.
Access from anywhere
Use your mobile device or desktop computer to access the information you need whenever and wherever you are.
Works in- & outdoors
Workplaces can cover vast areas with different characteristics. That's why our maps work in- & outdoors.
Everything you need to deliver great work
Have the overview
Have the most complete overview of what is happening in your workplace including machines, people, tasks and more.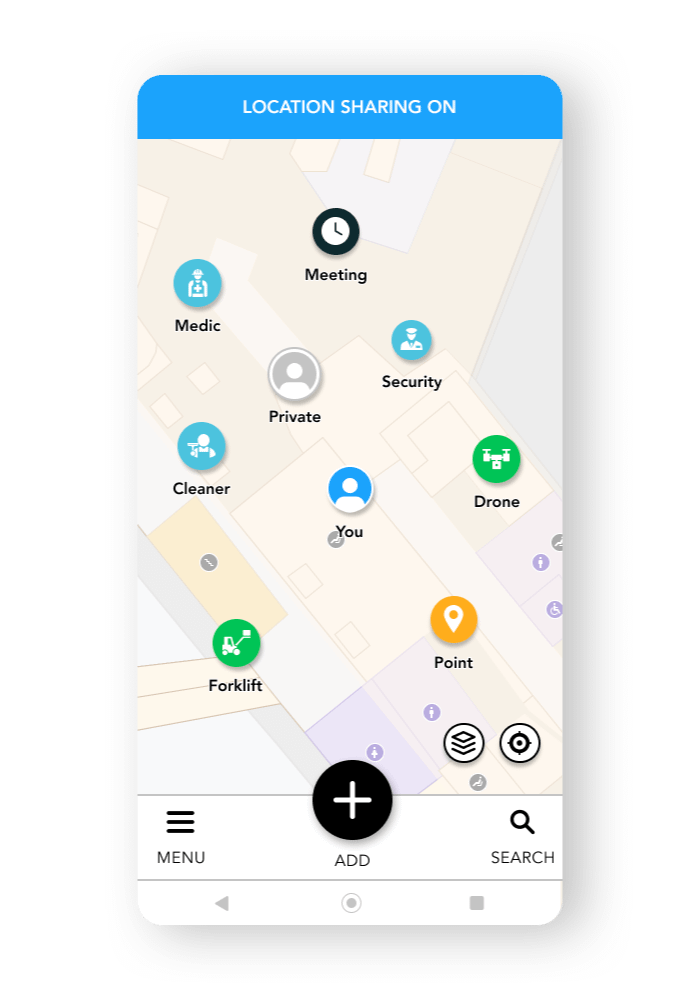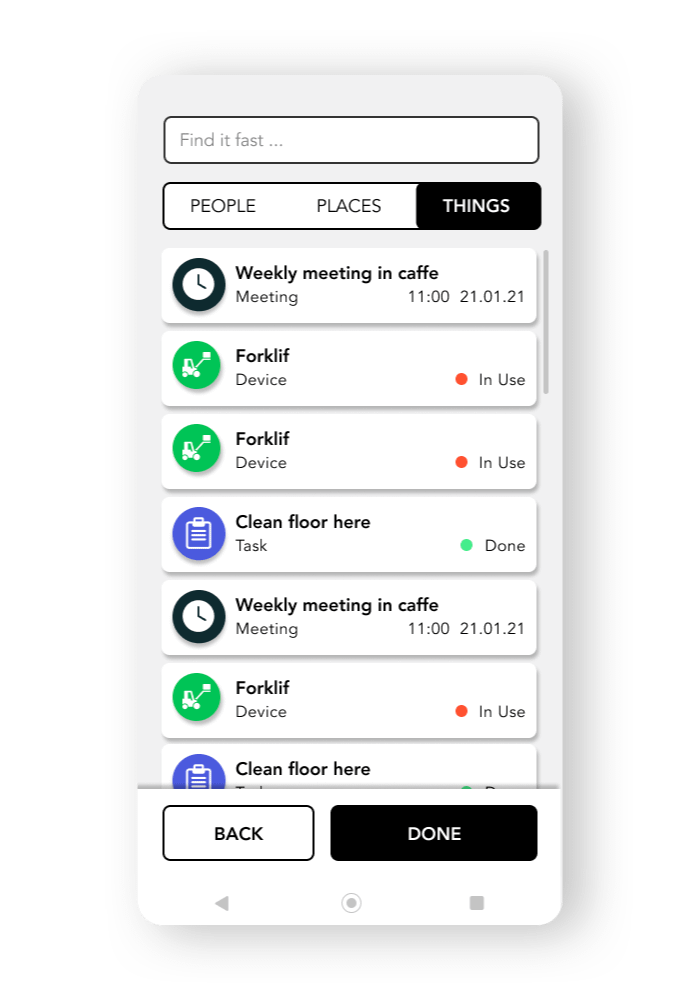 Find, don't search
Organize your workplace on map layers and quickly find what you need. No matter if it is a tool, location of a task or co-worker.
Organize your work digitally
Always know what, how and where to do it. Have access to all information needed from anywhere.
Eliminate information silos and increase efficiency by using digital communication.
More flexible team coordination
Schedule team meetings, assign tasks with a location or share information. The interactive map makes it easy to coordinate your team's work and enables you to benefit from more flexible processes.
Stay safe
Have the most up-to-date map with safety equipment and emergency exits right at your fingertips.
Analyze workplace and asset usage
Gain new insights by analyzing GDPR compliant location data. Understand how buildings and assets are actually used and gain more process transparency by tracking your orders to detect and resolve bottlenecks.
A solution for every team
There are many teams in large work environments. FORMATION helps every team individually but also brings them all together in one solution. You can start with one team or bring your whole company.
Whitepaper: The 7 Misconceptions of Mapping
We wrote this whitepaper because when we were setting up our solution, we kept running into the same assumptions that unfortunately don't apply to maps and their creation.
Of course it's great to know about all the benefits a map delivers, but we should also be aware of the things that cause limitations.
Read all about the 7 most common and unfortunately wrong misconceptions here!
This 
project 
is 
supported 
by 
the 
European 
Social 
Fund 
and 
the 
state 
of 
Berlin.
Let's put your team on the map!
What Interactive Maps can do for you

Find, Don't Search
Get back up to 90% of the time spent on searching today.

Improve Teamwork
Coordinate and connect your team accross any large workplace.
Keep the overview
Get a quick snapshot on the map that shows you what is going on.
Problem Solution Fit
You have a location specific challenge? Then we can help you solve it.

We analyze your current setup and goals to identify optimal solutions for your challenge - either great existing solutions on the market or custom build to match your needs.

We do not just stop with a clear recommendation. We also implement your new solution and get you and your team started successfully.
Technologies
You know what to track and where to track it, but you are not sure what technology to use? We analyze your scenario and provide you with a clear recommendation based on what you aim to achieve.

Our experts can also get the system up and running for you.
Location Intelligence
You already have location data and would like to use it for e.g. process optimizations? With our location AI and ML experts we provide advanced analytics tools to enable you to gain new insights and benefit from the power of your location data.
Architecture Review
You already have a tracking or positioning solution but would like to know if it can do more for you? We offer in depths reviews of your existing infrastructure and help you identify its strengths and weaknesses but also new opportunities for additional business cases.
Your content goes here. Edit or remove this text inline or in the module Content settings. You can also style every aspect of this content in the module Design settings and even apply custom CSS to this text in the module Advanced settings.
Teilnehmer
Lernen Sie unsere Diskussionsteilnehmer kennen.
Marcus Görke
Executive Board Member, Next Data Service AG
Marcus Görke ist Gründungsmitglied der Next Data Services AG. Ein in Berlin ansässiges Unternehmen, das sich auf die Entwicklung von KI-Tools für diverse Branchen konzentriert. Bevor er seine neueste Firma gründete, arbeitete er u.a. als Senior Manager bei PWC und der UNITY AG, wo er viele globale Unternehmen bei ihren Digitalisierungsstrategien unterstützte.
Marcus Görke wird über seine neuesten Erkenntnisse zum aktuellen Stand von KI am Arbeitsplatz sprechen.
Ian Hannigan
CEO, FORMATION GmbH
Ian Hannigan is a tech enthusiast and brings in more than 20 years of experience in building user centric products. Before Ian Hannigan started FORMATION he grew Fluidui.com to help millions of designers build better tools and services.
Ian will share his insights into adapting new technologies and how technology can help itself. 
Thomas Waldmann
Venture Manager, Würth Elektronik Group
Thomas Waldmann ist Technologie-Scout und Venture Manager bei der Würth Elektronik Gruppe. Vor seiner jetzigen Position war er 22 Jahre bei OSRAM tätig, wo er sich vom Prozessingenieur und Berater zum Leiter der SP Services hocharbeitete.
Thomas Waldmann wird seine Einsichten über die neuesten Technologietrends für Industriearbeitsplätze mit uns teilen.
Möchten Sie Diskussionsteilnehmer werden?
Connor Kim
Marketing Head, Microsoft
Send us a message
Have a general question? We're just an email away.
Previous FORMATIONtalks events: